Conference Venue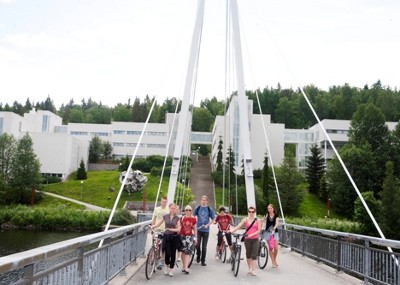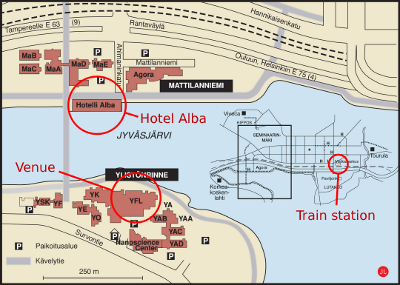 The ESUCB 2011 was held in the Department of Physics, University of Jyväskylä, which is situated in a walking distance of the city centre.
The City of Jyväskylä
Jyväskylä is a dynamic, youthful and lively city, which, on the basis of its specializations, promotes itself as the a Human Technology City. The City of Jyväskylä is the seventh largest city in Finland with 130 000 residents; it is famous for its achievements in science and technology, its high-quality cultural activities and beautiful natural environment. The city's strengths lie in its compact but versatile character; the key hotels and convention venues are located within walking distance of each other in the city centre.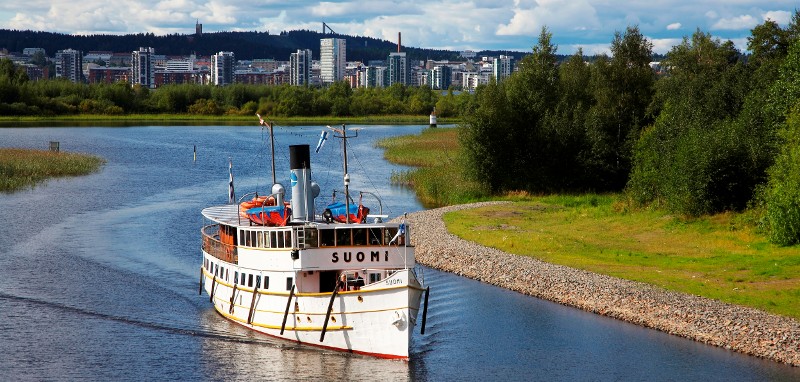 The University of Jyväskylä and Research on Skeletal Quantitative Ultrasound
Jyväskylä possesses a highly popular multidisciplinary university with a total of seven faculties. The core fields in research and education are natural sciences and mathematics, human-centred sciences, sport and health sciences, and teacher education.
Research on skeletal quantitative ultrasound (QUS) at the University of Jyväskylä is carried out as an active collaboration between the Department of Physics and Department of Health Sciences, which has existed for fifteen years already.
The Department of Physics performs research and offers education at the highest international level on nuclear and accelerator-based physics, materials physics, nanoscience and high energy physics. In addition, it hosts a teacher education programme. The accelerator laboratory is particularly active. The Nanoscience Center coordinates the national nanoscience programme in Finland. In the summer of 2009, an X-ray tomography facility was established, which also takes part in bone research. The possible imaging resolution varies from 50 nm to tens of micrometres. The tomography group has particular experience of CT image processing, such as noise reduction and segmentation techniques. Moreover, the Department hosts high-level research groups that specialize in numerical simulations and the related modelling of material properties. In this way, the Department thus provides premises that superbly meet the needs of QUS modelling.
The Department of Health Sciences performs research and education on gerontology and public health, health promotion and health education, occupational therapy, physiotherapy, sports medicine, and health sciences and technology. The Department constitutes a unique collection of closely collaborating disciplines not found elsewhere in the country. In particular, the Department provides facilities for in vivo testing of QUS techniques. Modalities accessible for reference measures include, e.g., peripheral quantitative CT (pQCT) and dual-energy X-ray absorption (DXA), as well as a number of commercial QUS devices. Skeletal research in the Department is focused on relating the impacts of factors such as diet, physical activity, and genetics on bone growth and age-related deterioration.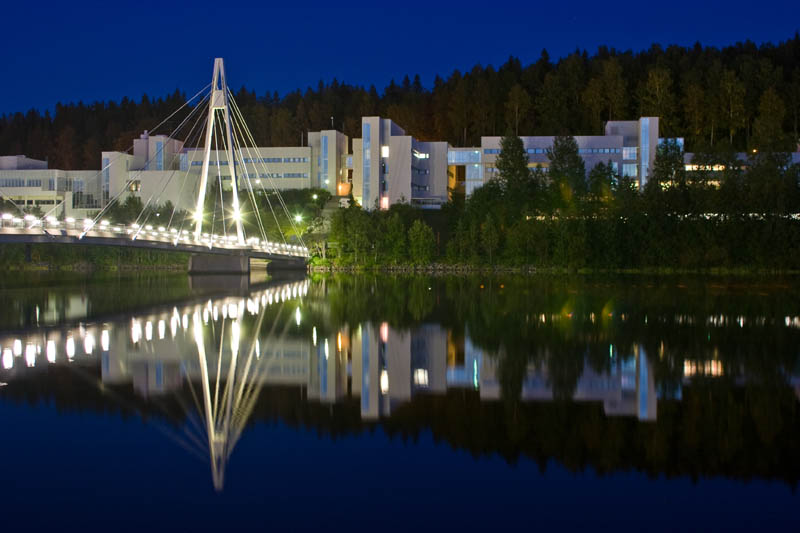 For a Google Maps page showing the location of the venue, please click here.